The All New
ŠKODA CITIGOe iV
Go Electric
The new face of Electric Mobility.
Available to Order today!
Join the Electric revolution.
Sign up to be kept informed
Keep Me Informed
Do you want to be one of the first to find out about the new CITIGOe iV coming soon to Pulman? Sign-up to receive the latest news and updates.
New Electric SKODA Citigoe iV
The SKODA CITIGOe iV is the first fully electric car manufactured by SKODA and is now available to order from Pulman SKODA in Durham and Cramlington.
The electric car offers up to 170 miles (based on WLTP) and as the original Citigo is renowned as a city car, the electric range is more than enough to assist you in your weekly driving routine. View the current offers available on the CITIGOe iV.

Range
Should you need to travel further than 170 miles on a weekly basis there's a few options to make sure you get the most out of the new CITIGOe iV. The new CITIGOe iV also uses brake energy regeneration. This means when the brake is released the electric motor's braking function slows down the car and simultaneously recuperates brake energy. Electricity from the regenerative braking is stored in the traction battery and is then used to drive forward the car, saving more miles on your car.
Everyday there are more and more charging points and stations opening across the North East and the rest of the UK; by 2025 there will at least 100 charging hubs nationally too (GridServe), so you'll never be short on finding an area to charge your car. If you drive long miles to your place of work on a daily basis, it would best to charge your CITIGOe iV at your place of work during the day or every evening at home. If you're travelling in a new area, there's many apps available to download which will inform you of your closest charging point such as Zap Map, Chargemap and WattsUp to name a few.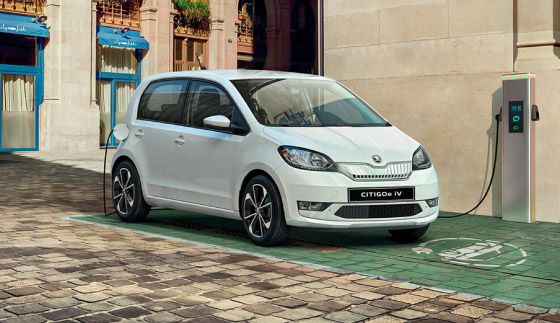 Charging & Battery
So when it comes to charging your CITIGOe iV, how long does it actually take? There are four options to choose from and the times below are based on charging the battery to 80%.
Mode 2 (2.3 kW): battery is charged from an ordinary household outlet with an estimated charging time of 12 hours 43 minutes.
Mode 3 (7.2 kW): battery charged from a wall box/public charging stations with an estimated charging time of 4 hours and 15 minutes.
Mode 4 (40kW): battery charged at public rapid charging stations with an estimated charging time of 1 hour.
Combined Charging System (CCS): also a rapid charging method but via a socket again with charging time of around 1 hour.
*Please note mode 2 is the only standard option on SE trim (all other modes are optional on SE trim). All modes above are standard on the SE L trim.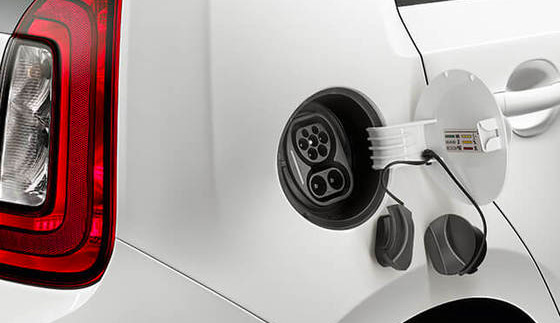 Space & Convenience
The new zero emissions CITIGOe may look small from the outside but step inside and there's plenty of room for up to four passengers to sit comfortably. The generous boot spaces offers 250 litre capacity and with the rear seats folded this increases to 923 litres. There's also handy storage solutions to help further the convenience for driver and passengers including a foldable hook which attaches to the glove compartment to hang your bag from, side pockets in the front seating area, pen and glasses compartment in the glove box and more!
You'll always be kept entertained and connected on your journeys with the applications from SKODA to download; Move&Fun and SKODA Connect. The Move&Fun application connects to your smartphone and mirrors on the touchscreen display; you'll be able to control compatible apps such as music, your contacts and satellite navigation. With the SKODA Connect app you can check your driving range and style from previous journeys as well as remotely set your car to charge (if it's plugged into its cable). Further to this, on warm or cold mornings, you can set your air conditioning to start so you can enter your car at a comfortable temperature!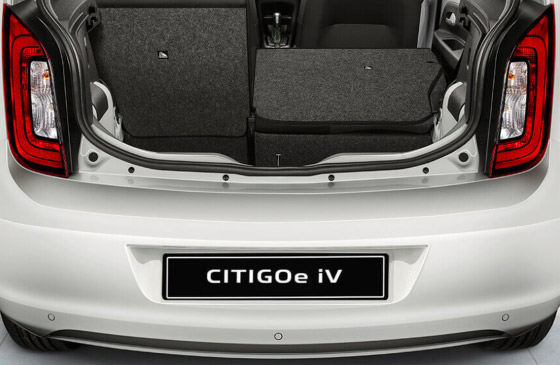 Trims, Specifications & Order your new CITIGOe iV today
The new SKODA CITIGOe iV is currently available in two trims; SE and SE L. The SE trim offers LED Daytime Running Lights, Climate Control Air Conditioning, Lane Assist and Swing Radio with 6.5" Touchscreen Display to name a few. The SE L trim includes more enhanced extras including 16" 'Scorpius' Black Alloy Wheels, Ambient Lighting, Electrically Adjustable and Heated Door Mirrors and Rain & Light Sensors. View the full specification of each trim.
To find out more about the 100% electric CITIGOe iV contact our SKODA Specialists at Pulman SKODA in Durham and Cramlington.